Sara Lawson
Sara's genuine love and affection for animals is the core of who she is. From a young age she knew that she would devote her life to them and realized that by earning her degree in Veterinary Technology from Essex Community College in 1994. She went on to become a licensed Veterinary Technician in the state of Maryland and has spent the past 20 plus years working for some of the foremost specialty practices in the area.
Call it a mid life crisis, but as she was turning 40 she decided that it was time to pursue new goals. She decided that she wanted to help people care for their pets in their own homes, providing services to pet owners in the community. On the regular dog walks that she takes with her best friend Jenn, many long discussions became a dream, and then a reality, and Mason Dixon Dog Walking was born.
Sara lives in Southern York County with her husband and a variety of furry, rescued kids including a German Shepherd dog, a cat, a horse, and two mini donkeys, all pictured on this site.
Jennifer Rosenfeld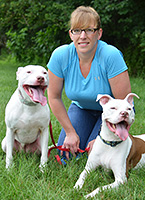 Jennifer's love and dedication to pets started from childhood and quickly became a passion. As a Veterinary Technician for the past 18 years, she has devoted her life to being an animal caregiver, professionally and personally.
Jenn grew up with a house full of furry friends, so she truly understands the importance of caring for a pet and loving them all as her own. Even today, her house is often a second home to many friends and family pets.
Jenn is also a rescue mom to two Pit Bulls, Lily and Hank. Hank was rescued at 2 days old, requiring a lot of TLC. Hank made a full recovery and is now 8 years old. Lily is a 2 year old Pit Bull mix full of energy and loves to play, play, play! Hank and Lily have been inseparable since they met. Lily also happens to be the best buddy and ​Guardian Angel to Jenn's toddler. Jennifer also lives with her 16 year old son and husband. They are new residents of Southern York County.